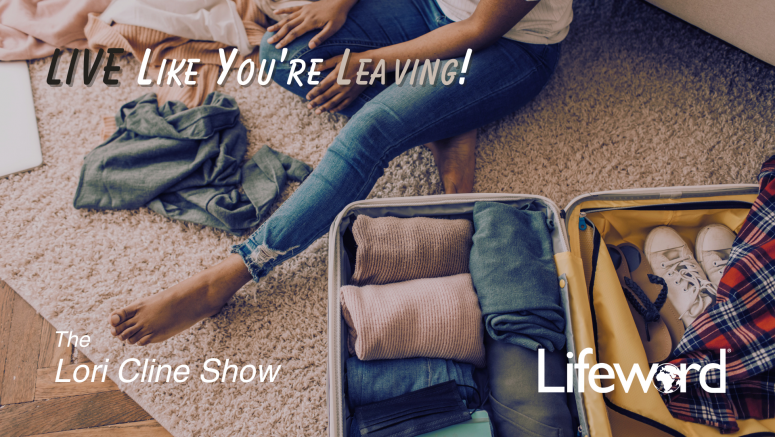 Copyright 2016-2019 Lifeword
Lori Cline
LIVE Like You're Leaving!
Duration:
00:04:34 Minutes
Scripture
1 Thessalonians 4:16-17, Ecclesiastes 5:15
Every day should be lived in preparation for our eventual trip to heaven. ~~~ What's your process for preparing for a trip? We all have one. Women, ours is bit more extensive. I take days to prepare for a trip. My husband, he can pack in 30 minutes and he's good to go. This past summer we had the opportunity to go to Puerto Rico to be with some missionary friends who were celebrating 19 years of ministry. We decided to make it a family trip. If you're like me, it doesn't matter how far away I'm going or how long I'm going to be there, the preparation is the same. We have two dogs, a rabbit and a guinea pig. When we leave town we have to have a house and pet sitter. This requires preparation. Not only for any trip do we have to get all the laundry done and pack up all we will need, we also must have our house in order a bit and have it ready for someone to stay there with our animals. Getting ready to leave takes intentional planning and time. I've got another trip I'm preparing for. It will be EPIC as my husband likes to say. The good news is I won't have to pack a thing, but every single day I'm given, IS a day of preparation. 1 Thessalonians 4:16-17 For the Lord himself will come down from heaven, with a loud command, with the voice of the archangel and with the trumpet call of God, and the dead in Christ will rise first. After that, we who are still alive and are left will be caught up together with them in the clouds to meet the Lord in the air. And so we will be with the Lord forever. As a believer in Jesus, one day, I'm gonna take a trip on that good old gospel ship, as the Imperials used to sing on their 1978 Imperials LIVE album! I'm going far beyond the sky. Jesus said it, I believe it. He's never not kept a promise. He said in John 14 I will come back and take you to be with me that you also may be where I am. I am a child of God. I believe in and have accepted God's gift of salvation through His son Jesus. I know that trip is coming, one way or another. So how am I or can I even prepare for it? I definitely can't take anything with me. All the stuff I hold so dear. Ecclesiastes 5:15 Everyone comes naked from their mother's womb, and as everyone comes, so they depart. They take nothing from their toil that they can carry in their hands. So what can I do to get ready? My husband put it this way, LIVE like your leaving. I love that. I don't have to live like I'm dying as a country artist has put it, because I know this life is not the end, it simply leads to my life eternal with Jesus. That changes everything! So how can we LIVE like we're leaving? I thought you'd never ask! Here are a few to do's found in scripture we can follow for each day we have up until take off. Love God with ALL your heart, soul, mind and strength and love your neighbor as yourself. Mark 12:30-31 Don't cling to earthly treasures, but store up treasure in Heaven. Matthew 6:19-21 Be alert, SOBER and watchful, there is a deceitful enemy that wants to destroy your life. 1 Peter 5:8 Put your armor on every single day! Ephesians 6:10-18 Go and make disciples! Matthew 28:19 Throw off the sin that is holding you back and RUN your race! Hebrews 12:1-3 Watch and be ready! Titus 2:13 Those are just a few ways, to LIVE like your leaving. There are many more to do's that lead to the most abundant life on this earth, but the point is this, we have work to do today that prepares us for our eternal tomorrow. That's the truth. Eyes to the skies my friends, soon and very soon we're all gonna take a trip. I pray your destination is Heaven. Settle that in your heart today. That's the most important step of being ready. I'm Lori Cline.
Other media in this series